EC sustains gift-giving activity for 7 years
Submitted by

CED

on Wed, 08/15/2018 - 16:28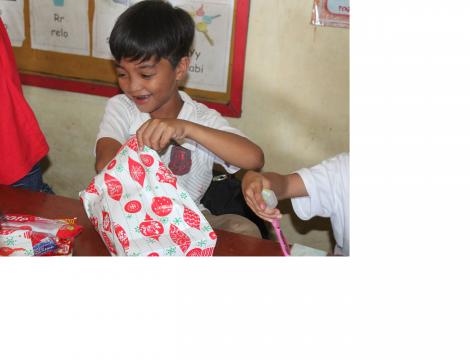 EC sustains gift-giving activity for 7 years
Photo Caption: A beneficiary opens his gift with a smile. Each gift bag contains a hygiene kit.
Reaching out to the less privileged children of the society has always been one of the core commitments of the English Circle (EC).
For this academic year, the Grade 2 pupils of Miguel Intes Elementary School were the beneficiaries of the gift-giving activity dubbed as 'Sharing the Gifts of Joy and Love Year 7' on December 8, 2017. The EC, along with the other NDMC students donated hygiene kits to the recipients as their way of helping the kids be familiar with the proper ways of taking care of their physical health.
The English Circle (EC) organization is a school-based group composed of but not limited to BSED-English students of the College of Education. Since its establishment in 2010, the organization has been active in different socio-civic programs and advocacies that aim to improve the academic and social lives of its members and identified beneficiaries.