Testimonial Dinner 2018: Continuing the Tradition of Success, Excellence and Positive Difference
Submitted by

CED

on Wed, 08/15/2018 - 16:48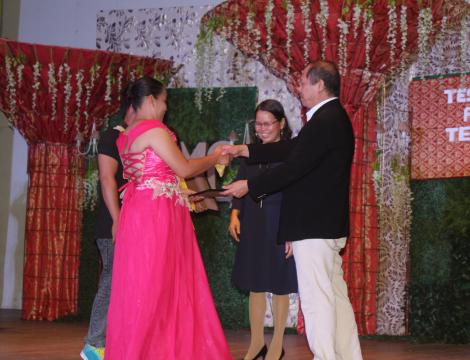 Testimonial Dinner 2018: Continuing the tradition of success, excellence and positive difference
By Megg B. Gonzales, BSED- Social Studies III
Photo Caption: Carmelyn L. Porras, LPT receives her Certificate of Recognition from Fr. Jonathan R. Domingo, OMI and Dr. Honeylyn M. Mahinay. Finally, she has reaped the fruits of her sacrifices.
The College of Education continues to prove its promise to offer quality education as manifested in its success in terms of human capacity building as the office produced seventy-six (76) newly licensed professional teachers in the March and September 2017 Licensure Examination for Teachers. With this feat, a Testimonial Dinner was held at Bulwagang Genoveva Deles-Jaranilla on January 27.
Fr. Jonathan R. Domingo, OMI complimented the board passers for their hard work and dedication in succeeding the Licensure Examination. Furthermore, he presented pieces of advice now that they have more responsibilities to take as professional teachers. Also present during the dinner were the members of the Administration, CED Faculty, principals from the cooperating schools and families of the honorees.
During the dinner, honorees Paul Christian C. Singco, LPT and Clarez Charity P. Moskito, LPT, conveyed their gratitude towards NDMC for the inspiration, precepts and ethics that helped them achieve their goals. Moreover, they stated the importance of taking the examination seriously. They even recounted some of their funny experiences while preparing for the examination.  According to them, passing the board exam would mark as a stepping-stone for a great career; thus, every taker shall manifest diligence, time management and selfless effort. 
Also, the new LPTs gave pencils to the CED Seniors in order to remind them of their purpose as moulders of the youth and a way to inspire them to never surrender in their journey of becoming educators.
The 2018 Testimonial Dinner attested to a tradition, a legacy of triumph and a testament to the school's mission: "…to make a positive difference through quality, relevant and liberating education."