CED AND CCJE Dynamics Empower Students with Fee Lectures on "Presidency in Political Parties"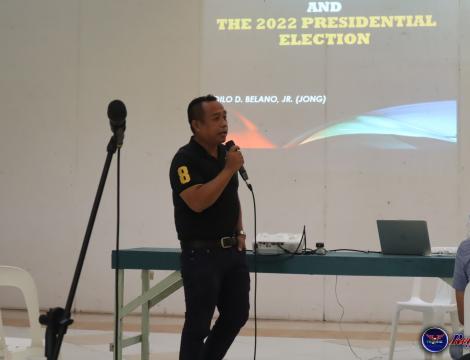 The College of Education recently sponsored an enlightening and empowering free lecture, "Presidency on Political Parties," held on July 12, 2023, at Primera Hall.
The event attracted a diverse audience comprising students specializing in Education, Criminology, and Forensic Studies, with the primary objective of instilling political awareness and promoting active civic participation.
Atty. Zolio D. Belano, Jr., an esteemed resource speaker, showcased his remarkable display of expertise and unwavering dedication to his field by delivering a distinguished and impactful lecture.
The lecture delved deeply into the intricate relationship between the presidency and political parties, shedding light on crucial topics such as the dynamics of the Philippine Presidency, the overarching landscape of the 2022 Presidential Election, and the unique aspects of political parties within that election. The event presents a distinctive opportunity for students to broaden their perspectives and acquire invaluable insights into the intricate realm of politics.
In conclusion, the College of Education's sponsorship of the free lecture on "Presidency on Political Parties," exemplified the institution's dedication to empowering students. Through this event, attendees gained a comprehensive understanding of the relationship between the presidency and political parties, equipping them with the knowledge and critical thinking skills necessary for active participation in democratic processes. By fostering political awareness, the college nurtures well-informed and responsible citizens who can contribute positively to society.
Article: Norhati S. Mascud
Photos: Xaviera A. Palaña
 
CTTO : Regina Student Publication