Daring Oblate Missionaries Celebrate 205th Anniversary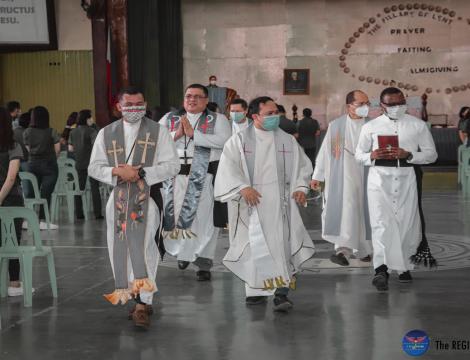 Living the missionary life defined by daringness, love and preference for the poor and simplicity, the Oblates of Mary Immaculate celebrate 205 years. Founded in Aix-en, Provence France by St. Eugene de Mazenod, the OMI congregation was established in the Philippines 80 years ago.
In his homily for the Ash Wednesday Mass, Fr. Rockmore S. Saniel, OMI,magnified the analogy of the ash in cleansing beyond pots and casserole with that of cleansing one's perspective and faith. The season of lent is reinforced by its pillars: prayer, fasting and alms giving. It calls for a deeper reflection of one's existence and relationship with others, that is, loving one's self makes one learn to love others as God wants us to experience life to its fullness.
Fr. Jonathan R. Domingo, OMI-NDMC President along with Fr. Ian S.Dignos, OMI-School Chaplain blessed the January and February birthday celebrants filling the air with positivity over a joyful birthday song.
After the mass  held at the Bulwagang Genoveva Deles Jaranilla on February 17, the OMI fathers present in the persons of Fr. Dondon Singco, OMI who coincidentally celebrates his birthday, Fr, James Mallo, OMI - Director of Oblate Youth Philippines and other Oblates assigned in the far flung island of Tawi-Tawi were given a token of gratitude for the dedicated life and service nurturing the faith and good news to the community.
CTTO : Regina Student Publication