Publication staff attend seminar on Journalism and Truth-telling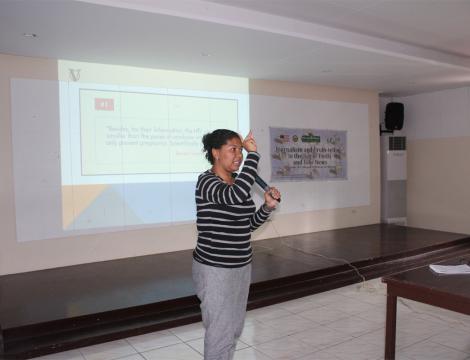 Publication staff attend seminar on Journalism and Truth-telling
By Jonel D. Ramirez, BSED- Social Studies III
---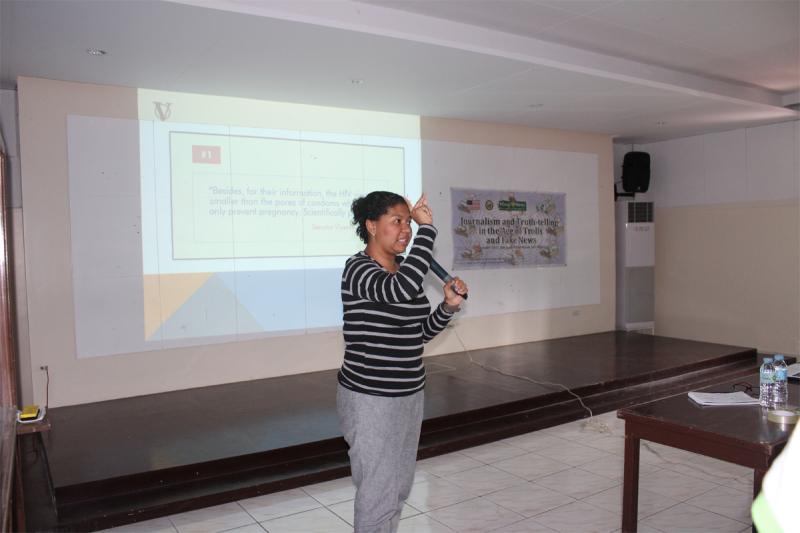 Photo caption: Lucille Sodipe of Vera Files talks about the ways to spot suspicious information on different media platforms and on techniques to verify them.
     In partnership with the Notre Dame of Midsayap College and funded by the U.S. Embassy in the Philippines, the Mindanao Times, MindaNews, Mindanao Bulletin and Vera Files sponsored a Seminar on Journalism and Truth-telling in the Age of Truth, Trolls and Fake News on November 17, 2017 at Fr. Joseph Boyd Buidling- Audio-Visual Room.
     The participants were the editorial staff of The Dusk (Junior High School Department), The Lighthouse (College of Education), The Forensics Digest (College of Criminal Justice Education), and The Regina (NDMC's Official Student Publication). Present also during the event were the students of the following courses: BA Communication, BSED-English, and selected Oblate aspirants from Notre Dame University and local radio stations namely MyFM Teleradyo, Ang Radyo ni Juan, and DXJR Power Radio.
     Fr. Jonathan R. Domingo, OMI, NDMC President, commenced the activity with his welcome address for the guests and participants. After which, Amalia Cabusao, editor of Mindanao Times, gave the overview of the event. During the morning lecture session, Marcos Mordeno, editor of Mindanews, highlighted the importance of cultivating a critical mind especially when reading posts and news in common social media platforms like Facebook. He also taught the participants the techniques to distinguish fake news and other malicious information. He also emphasized the four-word mantra of 'Think Before You Click" which he wished each participant would embody and put into practice.
     Keith Bacongco of Mindanao Bulletin informed the participants about the various hoaxes some news agencies do in order to enhance their photos to make it 'realistic' that mislead the people. He also shared useful tips on how to examine critically a photo if it is dishonestly enhanced or not.
     In the afternoon lecture session, Lucille Sodipe of Vera Files, a nonstock, nonprofit independent media organization, which focused on fact checking, took the floor with her talk about "A Journalist's Guide to Countering Alternative Facts". She taught the participants the proper ways on how to spot dubious information spoken or written by politicians and even by news writers and the approaches to counter check that doubtful data.
     The activity also included an open forum which gave an opportunity for the participants to speak out their queries about the topics discussed by the speakers.