Licensed Professional teachers Shine Bright Like Diamonds
Submitted by

nd-admin

on Tue, 01/28/2020 - 13:14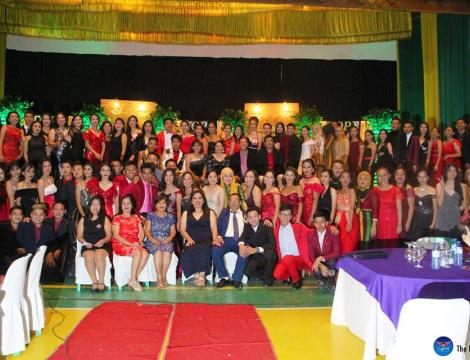 Diamonds go through the laborious and painstaking transformation until the precise cut, clarity, carat and color is achieved. Same process is relatable with the new Licensed Professional Teachers who sacrificed, prayed, focused and challenged themselves to become accomplished licensed professional teachers.
The road to fulfilling the dream of these young educators was a monumental history and a legacy of achieving excellence. To immortalize this academic milestone with a grand celebration was an understatement, after all College of Education did not only produce one but three topnotchers - Gybrille Rosse Ferolin - BEED PreSchool (TOP 3), Adrian Obeñita - BEED Generalist (Top 7), and Angelo Florague - BSED MATHEMATICS (Top 8).
The much awaited Testimonial Dinner for the newly Licensed Professional Teachers happened on January 25, 2020. It honored the LET passers of March 2019 and September 2019. A mass was offered in the morning of January 25 with Fr. Jonathan R. Domingo, OMI presiding. A motorcade around the town followed to welcome the triple peat of the College of Education.
In the afternoon everyone was fabulously set for the glamorous event. The honorees as well as the students and faculty donned their Testimonial Dress Code of Red and Black ensemble with a touch of glitter in celebration of CED's Diamond Celebration. Everyone had the chance to experience the Walk of Excellence – a prelude to the evening's program. Dr. Honeylyn M. Mahinay, CED Dean gave the Welcome Address, Fr. Jonathan R. Domingo, OMI – NDMC President delivered his Message. A special number from the CED Faculty literally rocked the stage truly defining what versatile mentors should be.
The honorees had also their shining moment with their gyrating interpretation of the global dance craze "Tala" The 3 topnotchers took turn with their inspirational messages each elaborating on commitment, sacrifice and focus. Fr. Domingo handed the 100k cash incentives to Angelo, Adrian and Gybrille. It was followed by the giving of Certificates of Recognition to the Honorees along with their special guests. The tradition of the honorees of giving the pencil of excellence to the next LET takers followed. Special awards were given to the stunning undergrads and honorees.
The party was a huge success owing credit to the generous support of the administration, College of Education faculty, student officers, parents, event coverage by the Regina Student Publication and Yearbook, DeMazenod Band for the Oscars feel songs, Mr. Jess Fabia for the fabulous event set up and catering.
Best Dressed – Honorees: Krislyn Catañag
Wranzess Barcebal
Best Dressed – Undergrad: Delaihre Guiloreza
Joseph Michael Miranda
HairKinetic – Honorees: Darlene Calinawagan
Kenneth Jed Gallano
HairKinetic – Undergrad: Mary Gwyneth Valeroso
Resty Llaguno
Eye Catcher – Honorees : Robelin Tecson
Cyrus Bryl Bato
Eye Catcher – Undergrad : Catheryn Bate
Rico Dimalaluan
Face of the Night – Honorees : Marie Lauren Barte
Jonel Ramirez
Face of the Night – Undergrad: Jermelyn Jabagat
Philip Richard Rusiana II
Lady of the Night – Honoree: Mariel Cantomayor
Gentleman of the Night – Honoree: John Gabriel Vargas
Lady of the Night – Undergrad: Kyla Traya
Gentleman of the Night – Undergrad: Ahmad Ulanan
CTTO : Regina Student Publication