Alumni Homecoming 2019 Raises P85K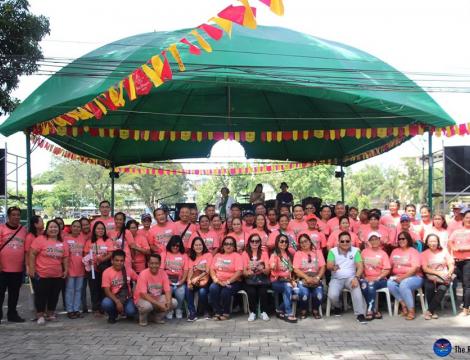 In a strong support to building a new school chapel, NDMC alumni from the different batches have collectively raised around P85K for the said project.
It was during the Search for Mutya ng Alumni - a fund-raising contest for the homecoming queen, that everyone generously put in amount for this noble undertaking. Not only are the alumni excited about the newest iconic structure of spiritual enlightenment but all throughout the various competitions of the day.
After the Eucharistic Mass at the Bulwagang Genoveva Deles-Jaranilla a motorcade around the town proceeded. The jubilarians donning their batch shirts went around on top of their contest floats which drew cheers and admiration from the crowd.
The venue for this year's alumni homecoming was at the famous Mahangin - just perfect for reminiscing and catching up with its natural ventilation and scenic view under the shade of decades' old acacia trees.
Best Float: HS Batch 1989
Most Jolly Batch during Motorcade: HS Batch 2009
Most Number of Registered Batch: HS Batch 1994
Best Batch Tshirt: HS Batch 1989
Ramp King and Queen: HS Batch 1989
Mutya ng Alumni 2019: Aimee Postrado-Arigo HS Batch 1989
First Runner-up: Joanna Bautista-Garcia HS Batch 1994
Second Runner-up: Rosemarie Rocaberte-Agnila HS Batch 1984
Third Runner-up: Marlyn Balancio Azocena HS Batch 1974
Fourth Runner-up: Hemela Joyce Filipinas HS Batch 2009
Inter-Batch Basketball Tournament Category A Champion: HS Batch 1994
Inter-Batch Basketball Tournament Category B Champion: HS Batch 1999
2019 Jubilarians
10 Years – HS Batch 2009
15 Years – HS Batch 2004
20 Years – HS Batch 1999
25 Years – HS Batch 1994
30 Years – HS Batch 1989
35 Years – HS Batch 1984
40 Years – HS Batch 1979
45 Years – HS Batch 1974
50 Years – HS Batch 1969
A surprise announcement took off regarding the 2020 Alumni Homecoming celebration which will be a one-day, one-venue activity that will take place in Mahangin Area from 7am till 11pm packed with fabulous raffle prizes.
Everyone had a great time recapturing the glorious moment and finding the "elusive ex".
NDMC Alumni Association Officers 2019-2020
President: Eduard M. Delfin
Vice-President for Internal Affairs: Ellen V. Delosa
Vice-President for External Affairs: Clai Clai M. Ostique
Secretary: Virgie O. Gilera
Treasurer: Maureen G. Cacabelos
Auditor: Reynaldo D. Postrado
P.I.O: Amylene Q. Biruar
Business Managers: Charito Roselle S. Garcia
Mariflor Batislaong
Board of Directors: Dr. Teodora S. Casipe
Merly Tabifranca
Ferdinand Galvez
Scholars: Kevin Guiang
Michelle Sebuco
CTTO : Regina Student Publication