CITE Fest 2020 Excites Dameans Anew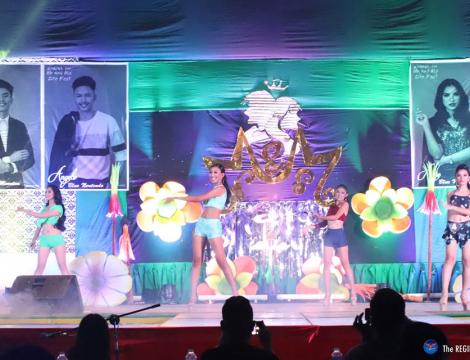 In this time and age, no one is stranger to the wonders and convenience technology brings. In the most guarded chambers of politics to the plethora of trending products and applications technology is there and will continue to dominate the world with exciting and life-changing advantages.
This is no stranger tech tale in NDMC much more with the College of Information Technology and Engineering who recently fired up the campus with a series of activities to celebrate this year's CITE Fest with the theme "Diversity and Transformation Breakthrough Innovation and Creativeness". Four teams competed for supremacy: Maroon Pixel, Blue Nintendo, Red Valve, and Violet Moontoon.
Competitions include Mass Dance, Yell, Novelty Dance, Vocal Solo, Vocal Duet, Programming, Speed Typing, Robo Battle, Quiz Bowl, Video Editing, Booth Making and capstone Presentation
On March 4 was the most awaited event – the Search for Mr. and Ms. CITE Fest. Four pairs exuded confidence, wit and glamor for the prestigious crown.
Vocal Solo:
Champion: Blue Nintendo
1st Runner Up: Maroon Pixel
2nd Runner up: Red Valve
3rd Runner up: Violet Moontoon
Vocal Duet:
Champion: Red Valve
1st Runner Up- Violet Moontoon
2nd Runner up: Maroon Pixel
3rd Runner up: Blue Nintendo
Novelty Dance
Champion: Red Valve
1st Runner up: Violet Moontoon
2nd Runner up: Blue Nintendo
Yell
Champion: Violet Moontoon
1st Runner up: Blue Nintendo
2nd Runner up: Red Valve
3rd Runner up: Maroon Pixel
Mass Dance:
Champion: Maroon Pixel
1st Runner up: Violet Moontoon
2nd Runner up: Red Valve
3rd Runner up: Blue Nintendo
Mr.and Ms. CITE Fest 2020 Winners
Angelo Tabudlo, STEM 12-Faraday
Mr. Cite 2020
Best in Interview
Mr. Photogenic
Best in Formal Attire
Best in Creative Jeans
Jazelle Faith Villarma, STEM 11-Galilei
Ms. Cite 2020
Ms. Photogenic
Ms. Popularity
Best in Creative Jeans
Best in Sportswear
Emmanuel Cantomayor, BSIS 2
First Runner up Male
Mr. Congeniality
Stephanie Morallon, STEM 12-Ampere
First Runner up Female
Ms. Congeniality
Best in Playsuit
Gerald Sapallida, STEM 11-Archimedes
2nd Runner up Male
Mr. Popularity
Best in Playsuit
Best in Sportswear
Amie Pia, STEM 12-Faraday
2nd Runner up Female
Best in Long Gown
Stephen Jones Libosada, STEM 12-Ampere
3rd Runner up Male
Fiem Anne Garduque, STEM 12-Pasteur
3rd Runner up Female
Best in Interview
CTTO : Regina Student Publication