Icons of Perseverance and Service Gather for a Night of Thanksgiving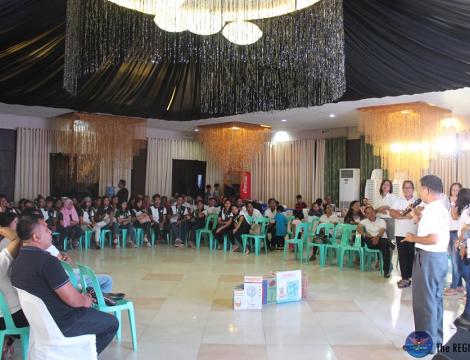 Those who have least in life, have much to give that comes from the heart.
Everyone was in awe at the Primera Function Hall on the night of October 26, 2019 when former working students and the current student aides gather for a night of reminiscing the past, creating memories and breaking distances. Everyone has a story to tell – funny, frustrating, motivating and victorious. All these mosaic of survival and success boil down into a tapestry of living the dream.
The evening was full of practical wisdom and comical anecdotes shared and never-been-told confessions by the alumni who worked their way to finish college education. Everyone was thankful to Mr. Efren Jatico – then Director of the Working Students.
While it was easy to spot on the difference between working students before and the present generation student aides – looks and disposition, they all sing the common song of sacrifice, survival and selflessness. The night continues with a sumptuous dinner in between the testimonies and raffle of prizes.
The night was young and everyone in a party mood, the celebration continues with song numbers from the alumni.
The highlight of the celebration was the election of officers who shall serve for the next 5 years.
President: Felix Cabuguas
Vice-President: Lloyd Quejada
Secretary: Marlene Pendon-Portolazo
Treasurer: Nenita Andulana-Nazaire
Auditor: Carlito Alipe
Business Managers: Charlie Baguio
Josephine Dacillo-Bergantinos
PIO: Bob Rico
Gressa Baynosa
Muse: Marilyn Apilado-Singco
Dolores Tajantajan-Dela Cruz
Adonis: Dennis Singco
Jemar Meguiso
Board of Directors:
1970s: Maria Sarah Dacillo-Morillo
1980s: Lani Baguio-Dongon
1990s: Rowena Cedeño-Suerte
2000s: Romeo Cadungog
2011- Up: Glen Niel Capilitan
CTTO : Regina Student Publication