Iron Ladies Bid Goodbye for a While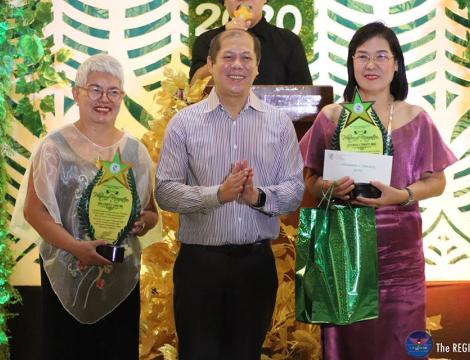 They are considered as pillars of NDMC, whose dedication and passion for work is their retirement legacy. Engr. Charito Andagan Labao – Vice President for Administration and Mrs. Luzvisminda Villarma Fermantes – College Registrar looked stellar as they walked the red carpet entrance in this year's Service Awards Night and Retirement Program.
The evening's spotlight was also shared by the personnel who have served NDMC for 10, 15, 20, 25, 30, and 35 years.
The retirees and service awardees received a plaque of recognition, cash gift and token from the school and the faculty and staff association.
The retirees and awardees in their respective speech welled with gratitude and fondness for the many opportunities and blessings that the school has given them – professional development, travel and assistance to name a few. NDMC was even instrumental for the honorees to meet the love of their life.
Could be bittersweet is the occasion as saying goodbye to the work you are most passionate has come.
The retirees however, were up for a hilarious surprise with comical skit from the administrative council plucked from the council meeting memes. Everyone was in stitches and uproar filling the Primera Function Hall the good reason to welcome retirement with a smile.
On this very special occasion Fr. Jonathan R. Domingo, OMI enthralled the audience with a popular love song "Ikaw at Ako" teaming up with Ms. Melvy Bayog, MSCrim – Dean of the Criminal Justice Education.
A night of songs, dance and well wishes captivated the audience who remained rooted up until the singing of the solidarity song "Journey"
NDMC indeed keeps its promise of nurturing her employees and molding them in their best version.
Retirees: Engr. Charito Andagan Labao, MBA
Vice-President for Administration
Mrs. Luzvisminda Villarma Fermantes, MMPA College Registrar
Service Awardees:
10 Years
Dianna B. Quenikito, MAHE
Genevieve O. Torino, DBM
15 Years
Felisa O. Amelo, LPT
Joebert T. Bingil
Ronaldo P. Castroverde
Chinitt P. Singco, MIB
20 Years
Michaelangelo R. Serrano, MIM
25 Years
Charito D. Cacas, ME
Noel F. Mondero, LPT
Jose Rene S. Cadorna, LPT
Honeylyn M. mahinay, EdD
35 Years
Melanie G. Gingoyon, LPT
Nenita A. Nazaire, MPA
CTTO : Regina Student Publication