NDMC Buildings Get Certified: Safe and Stable for Use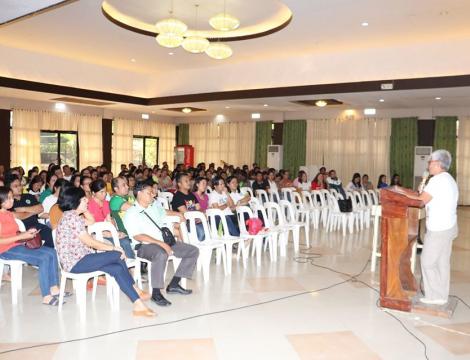 The Emergency Personnel Assembly last November 22 cleared all doubts and apprehensions regarding the safety and security of the NDMC physical structures.
With the series of earthquakes that ravaged parts of Mindanao, one cannot help but question the safety and stability of structures most especially schools with multi-level classrooms. Such was the case of Notre Dame of Midsayap College which has three 3-storey buildings (Joseph Boyd, Mongeau, De Mazenod), one 4-storey building (Robert Sullivan), one 2-storey Ladies' Dormitory and decade's old McGrath Building as well as the CCJE Building.
After a harrowing 5.9 magnitude quake experience at 9:22 in the evening of Monday, November 18 whose epicenter was Kadingilan in Bukidnon , the NDMC administration was very quick to announce the cancellation of classes the following day. The said decision was to gather expert assessment and recommendation regarding the safety of the buildings.
Structural Engineer Ramon Hinlog, Jr. and his team from RPHinlog Structural Consultancy and Construction Services Inc. based in Davao City, conducted inspection of the identified school buildings last November 21. The following day, Engr. Hinlog issued the Certificate of Structural Stability to the assessed school facilities.
All the buildings submitted for structural safety assessment are safe and habitable except for Demazenod Building which was recommended for retrofitting on its third floor's beams and posts. This would limit the use of the ground and second floors De Mazenod Building as the retrofitting will commence immediately.
Everybody, most especially the parents can now heave a sigh of relief and be at peace with the Certification of Safety and Stability issued to NDMC.
CTTO : Regina Student Publication