NDMC Personnel Annual Retreat: Journey as One with the Mission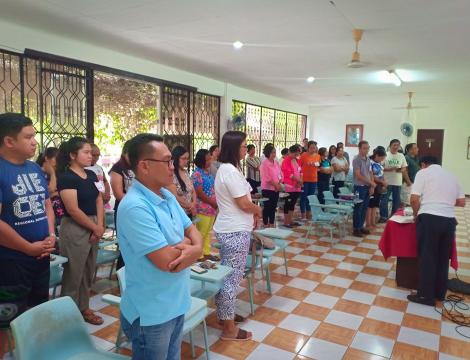 This year's Personnel Retreat was anchored on the theme "Journeying Together, with the Charism of St.Eugene de Mazenod". Four retreat houses accommodated the NDMC personnel last November 7-9, 2019: Trappistine Monastery, Polomolok – Fr. Danny Pacate, OMI (Retreat Master), Marist Asian Spiritual Center,Lake Sebu – Fr. Ronald Abad, OMI (Retreat Master), Monte Cielo Retreat House, Lake Sebu – Fr. Ross Capunan, OMI (Retreat Master), Our Mother of Perpetual Help Shrine and Retreat Center, Binoligan Kidapawan City – Fr. Prudencio Alviar, OMI and Fr, Dennis Ornopia, OMI (Retreat Masters).
There is so much to learn, unlearn and relearn in the retreat. You literally stop doing what consumes your time and just spend the day not rushing to catch up deadlines. You are surrounded by the serenity of nature and the goodness of sharing the bounty of God in an unhurried fashion. You notice the beauty of sunrise and sunset which you normally ignore because you focus on the work clock.
The inputs and reflections make you feel reborn with an amazing sense of maturity and purpose. You see yourself in an entirely different perspective – ready to spread goodwill and intention, exactly the way St Eugene sees himself amidst crisis, uncertainty and challenges. You are in awe of the sharings of your co-workers how they survived the greatest catastrophe of their lives and stood strong and whole.
At the end of the retreat you collected rich experiences and realizations that life is best lived with purpose and love.
CTTO : Regina Student Publication