NDMC Predicts the Future through Smart Preparations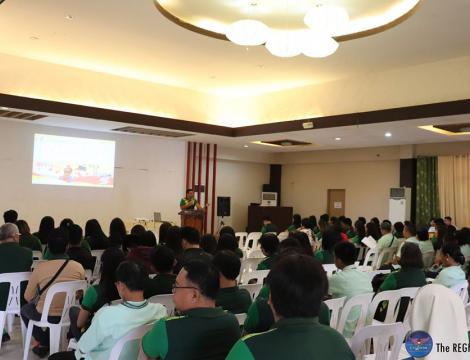 The academic landscape is ever changing. Do we see still see school buildings in the future? Will students be reporting to classrooms? Will the teachers in the future be replaced by robots? These are some of the questions what will future education be and only time can tell. As nobody can precisely predict the future, what better way to face future head on than to prepare for its coming.
Academic institutions have long invested on programs, faculty development and facilities upgrade that are recommended relevant for learners who, are born and shaped by technology. Notre Dame of Midsayap College as a premier school in Central Mindanao is no stranger to this pedagogical diaspora.
Last February 07 the NDMC Learning Resource Center headed by Mrs. Irene M. Viloan, RL, MLS – LRC Directress conducted the Library Day at the Primera Function Hall, with the theme "Inclusive, Innovative, Interactive". The said celebration is in partnership with learning resource providers such as CE Logic, GoldenRey, Britannica, Vibal Group, Rex Bookstore, MegaText Ph, New Century and C&E. Participants of the event were NDMC Personnel and heads/representatives of partner schools.
The morning activity was the Online Product Presentation featuring learning resources that address the differentiated learners' preferences and interests. NDMC personnel were in awe how handling classes could be such a breeze with the right tools and online applications.
Certificates of Appreciation were given to the participating learning resource providers by Fr. Jonathan R. Domingo, OMI - NDMC President and Engr. Ronniel D. Labio, MIT – VPAA.
The participants of the celebration were treated to a luncheon which was a kick off to an exciting Book Selection in the afternoon. IBED personnel reviewed books and catalogues at the Primera Function Hall while the College personnel placed their order at the College Library.
In the evening, Primera was transformed to a tete-a-tete venue fit to end the day's activity with a Solidarity Night. Noted in the evening's aria of performances is the once in a blue moon opportunity of seeing Fr. Jonathan in a duet number with Ms. Melvie Bayog, RCrim, MSCrim immortalizing "Bakit Ngayon Ka Lang". Ms Sarah and Mr. Paul Baloha of Vibal Group belted powerful "Endless Love" and "Halik" rendition to the shrieks and goosebumps of the audience. Engr. Ronniel D. Labio and Mrs. Ellen Delosa – CES Directress brought memories of yesteryears with a vintage "Don't Cry Joni" number. The night ended shining, shimmering and indeed splendid.
CTTO : Regina Student Publication