NDMC Raises the Bar of Research Publication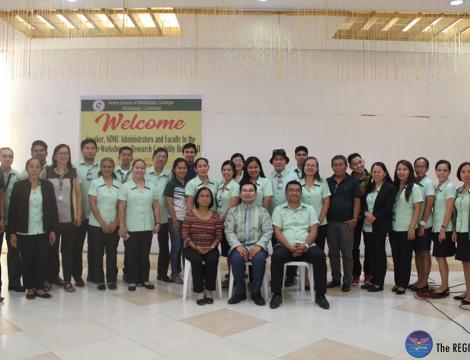 NDMC does not only push the research culture aggressivley but goes beyond it – online publication. And to get research publication started Dr. Genaro Japos, an international speaker, was invited to an insightful and interactive two-day seminar-workshop on October 21-22, 2019 at the Primera Function Hall of the Notre Dame of Midsayap College. All teaching personnel attended the seminar-workshop.
Dr. Japos is the President/Founder of International Association of Multidisciplinary Research and Philippine Association of Institutions of Research. He is also Chairman of the Board of the Asian Association for Academic Integrity and Asian Society of Teachers for Research.
The seminar opened with an eye opener from Dr. Japos what composes the job of a teacher - instruction, extension and research. He then proceeded with the session with the 3 types of research – commission-based, institutional grant and patriotic.
What amazed the participants, was when Dr, Japos introduced the topic "How to write research without actually doing it?". This led to a lengthy discussion about co-authorship to publish a research in a reputable online institution.
He made mention of the criteria of article quality and online tools to help establish a research that commands attention and citation. Some of these tools are harzing publish or perish software, google scholar, grammarly, gunning for index, pub med, orcid and word cloud.
The participants had a hands-on activity of evaluating a sample thesis and stripping it into the essential contents for a co-authored publishable paper.
In between the session are anecdotes on life and experiences shared appropriately by Dr. Japos, leaving the participants laughing in stitches.
The whole seminar experience can be summed up into three: research what interests you, research to discover and research guided by technology.
Dr. Japos ended the two-day session with a promise to help NDMC rise to publish research in any way he can. This was received with a standing ovation from the participants and a photo op to cap the event.
CTTO : Regina Student Publication