NDMC Teatro SinagDayag Folk Dancers Bag 4th Place in Sayaw Pinoy 2019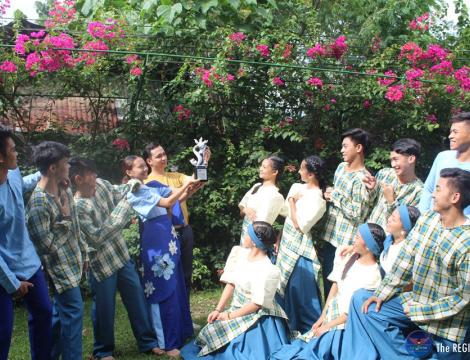 PPRD was with Teatro SinagDayag all through their journey until finally clinching 4th place in the NCCA's nationwide search Sayaw Pinoy 2019. Practice. Perseverance. Resilience. Discipline. All these contributed to the winning performance of the Folk Dancers of Teatro SinagDayag.
With barely 2 months to prepare – resources and winning piece, the team under the exacting tutelage of Mr. Jan Lincoln Rivas pulled off a spectacular interpretation of Lapay Bantigue.
The Rizal Open Air Auditorium on October 19, 2019 was a sea of seasoned dancers – trained under strict rudiments, fought for the greatest battle of their lives. What sets apart Teatro SinagDayag Folk Dancers from the rest of the 39 contingents is the signature seamless transitions and innate charm and vibrance.
The premier dance troupe of NDMC received P30,000.00 and a commemorative trophy. Now they can rest for a while and prepare for the next battle – this time NDEA Meet at the Notre Dame of Dadiangas University in General Santos City on October 27-28, 2019.
Meanwhile, the Teatro SinagDayag Avante Contemporary Dancers was an inch away to get included in the top 5 winners.
Sayaw Pinoy is a project of the Committee on Dance by the National Commission for Culture and the Arts.
NDMC truly inspires and motivates her students to live the dream bring out the champion in them.
CTTO : Regina Student Publication