Pre-School Orientation Highlights Virtual Transaction and Etiquette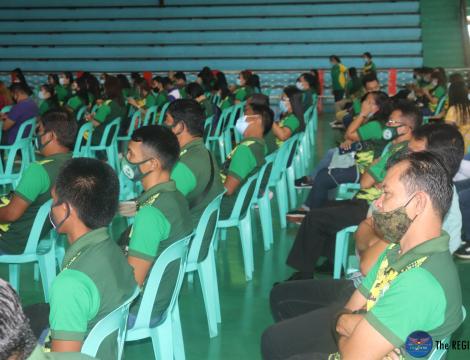 There is only one thing in this world that is constant – and that is change. The COVID 19 Pandemic has forced all the operations in the world to migrate from physical to virtual transaction – keeping in mind safety and security. The virtual change was abrupt and demanding – everyone scurried for compliance.
NDMC is on excuse to this new normal compliance. 
In the two-day Personnel Pre-School Orientation last August 13-14 held at the Bulwagang Genoveva Deles-Jaranilla, everyone was adjusting to the conduct of the activity – everyone in facemask, a meter apart from each other and constantly reminded of safety protocol.
The Day 1 session lined up updates and concerns from the following offices:
VPAA – Engr. Ronniel D. Labio, MIT
VP Admin – Engr. George C. Serot, MBA, MAS
HRDMO – Mrs. Eva C. Sison, MBA
ICTC –  Mr. Jayson V. Pagara
Security – Mr. Jay C. Candidier, RCrim
VP Finance – Mr. Noel E. Cacanindin, CPA
The Day 2 session rounded up updates from the following offices:
CMO – Sr. Zenaida Sonsona, OND
GTC – Mrs. Ma. Fe S. Mahinay, RGC, RPm
LRC – Mrs. Irene M. Viloan, MLS
Registrar – Mrs. Luzvisminda V. Fermantes, MMBA
DSAS – Engr. Ernesto C. Allado, Jr, MIM
CES/External Office – Mrs. Ellen V. Delosa, MSRED
DMTAC – Mr. Leonides G. Agravante
RDC – Dr. Ma. Lourdes S. Cantor
In the afternoon of Day 2 was a Para Liturgy celebration care of the CMO. This was followed by the Solidarity Socials which featured special dance and song productions from the talented newly hired personnel. The program capped with an early dinner over rounds of party tunes – the signature culture of the NDMC Pre-School Orientation.
CTTO : Regina Student Publication