Runway Feels for the New School Uniform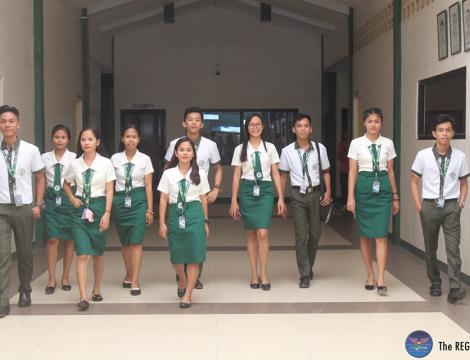 It is taking the public a second and third glance, with curiosity and admiration, as well hitting the school by storm. Could it be NDMC is offering Flight Attendant Course? No. October 7, 2019 is the official date of wearing the new student uniform. It is evident that the students imbibe confidence and sleek bearing in their new uniform.
School uniform is of paramount importance upholding identity and trademark. While there was no gargantuan issue with changing the student uniform, students strutting the new uniform is a refreshing sight.
Ladies look regal in an upgraded cream blouse tucked in an egre green pencil skirt with a buckled belt. A noticeable green neck tie adorns the female uniform. Men on the other hand, look career-ready with their white polo with collar and sleeves trimming tucked in gabardine olive slacks.
Joining the school uniform migration are the Preparatory, Grade 1, Grade 7 and Grade 11 students.
CTTO : Regina Student Publication