NDMC-UPD Research Team Met Arumanen ne Menuvu Elder Co-Producers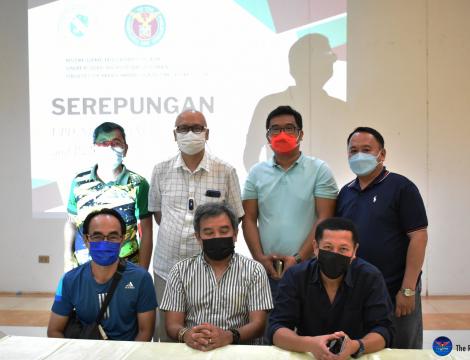 The face-to-face encounter between NDMC-UPD researchers and the Arumanen ne Menuvu elders happened on April 26-27 in Pangipasan, Matalam Cotabato. 
The elders are co-producers of Serepungan: Research Training and Partnership Program in Philippine Studies. 
Fr. Stephen "Bambam" Ondoy, OMI- Director of the OMI IP Mission School in Pangipasan welcomed the research team for a "dinehey" or dialogue with the community.  
He was very glad that such innovative research aligned with the principles of the Indigenous Research Methodology recognized the rich history and culture of the Arumanen ne Menuvu tribe.
The UPD Chancellor-Dr. Fidel Nemenzo was the honorary guest of the monumental event. Dr. Nemenzo also gave his inspirational message and strong support to the program.
The team finally met the respective co-authors from the Arumanen ne Menuvu elders. There were 6 areas of the research:
Kasaysayan (History) 
Dr. Michael M. Bautista (NDMC)-Dr. Vicente C. Villan (UPD)-Mr. Rene Bundosan (Pangipasan)
Panitikan (Literature) 
Dr. Honeylyn M. Mahinay (NDMC)-Prof. Gelileo S. Zafra (UPD)-       
Mr. Renante S. Manapas(Pangipasan)
Wika (Language) 
Dr. Michelle T. Viña(NDMC)-Dr. Mary Jane R. Tatel(UPD)- Mr. Dindo S. Pido(Pangipasan)
Edukasyon (Education) 
Dr. Evelyn A. Lopez (NDMC)- Dr. Ma. Theresa Payongayong (UPD)-Mr. Rene Mabayao (Pangipasan)
Kasarian (Gender) 
Ms. Melvie F. Bayog, MSCrim (NDMC)-Prof. Nancy K. Gabriel(UPD)-Ms. Almera R. Amo (Pangipasan)
Ekolohiya/Kalusugan/Medisina (Ecology/Health/Medicine) 
Dr. Nathalie S. Nadela (NDMC)-Dr. Carlos P. Tatel, Jr. (UPD)-Ms. Sarah Jane L. Macauyngan (Pangipasan)
The team had a great time exchanging words and laughter with the elders over the gust of wind, roaring sheets of rain and steaming coffee. 
The "dinehey" that took place was a rarity and history unfolding as the elders never ran out sharing tales and anecdotes.
The hearty lunch and dinner served during the "dinehey" was a bonding element that sealed mutual faith, cooperation and respect.
It can be recalled that it was upon the invitation of Fr. Jonathan R. Domingo, OMI-NDMC President to the University of the Philippines Diliman  College of Arts and Literature faculty to help reinvigorate the research culture of NDMC.
CTTO : Regina Student Publication